Welcome to our January 2023 newsletter, which provides an update on the progress of the Independent Review of Children's Social Care Services (the Review) over the past month.
Throughout January, Professor Jones has continued to review services on the ground and meet with key stakeholders in Children's Social Care Services. In Coleraine, meetings took place with a Multi-Disciplinary Team and in Portrush, Professor Jones visited Seaport View Children's Residential Unit. He spent an afternoon in Ballymoney meeting social work teams who care for children with disabilities; these included Sharing the Care, Positive Futures, and Safer Families. Professor Jones also visited The Cedar Foundation in South Belfast where he met with young people living with a disability to hear about their experience of social care services.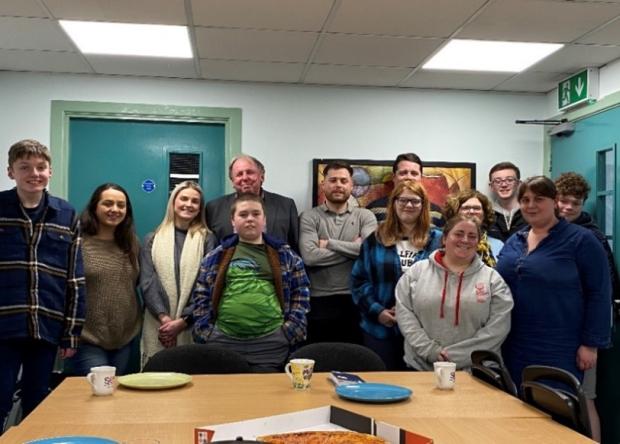 Young people met with Professor Jones at The Cedar Foundation to talk about their experiences of social care.
In Bangor, Professor Jones met with Juvenile Justice and Youth Justice social workers. A meeting was also held with Probation Officers. Officials from the Strategic Planning and Performance Group and the Public Health Agency also met with Professor Jones to discuss leaving care and aftercare services and support for young people. Follow up meetings were held with the Health and Social Care Trust, Directors of Children's Services. The Education Authority Safeguarding Forum invited Professor Jones to attend one of their meetings.
A meeting was also held with Koulla Yiasouma, the outgoing Commissioner for Northern Ireland Children and Young People (NICCY), along with Mairead McCafferty, the Chief Executive.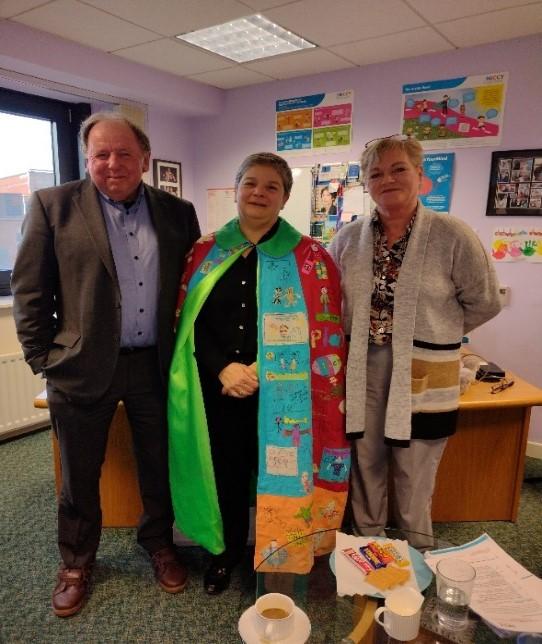 Professor Jones met with NI Commissioner for Children & Young People, Koulla Yiasouma, and NICCY CEO, Mairead McCafferty. Professor Jones and Mairead conceded that Koulla was undeniably the best dressed person at the meeting!
At the Royal Courts in Belfast, Professor Jones met with the Lady Chief Justice, Dame Siobhan Keegan and Justice McFarland to discuss the engagement and interfaces between children's social care and the family courts. He also met with Health Spokespersons from political parties in Northern Ireland along with the Department of Health Permanent Secretary, Peter May.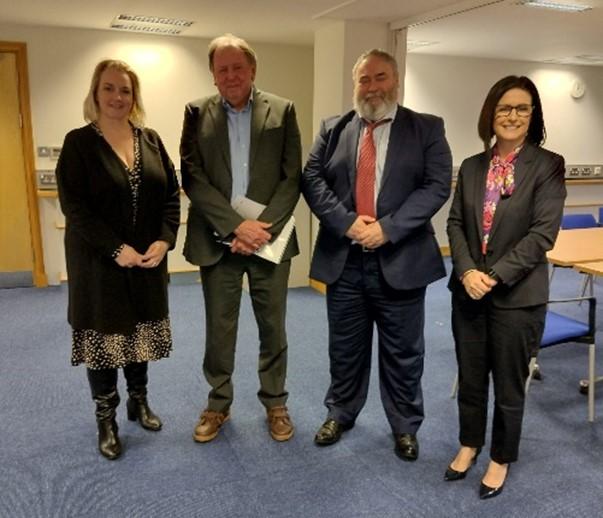 Professor Jones met with Health Spokespersons from the NI Political Parties. Pictured are Pam Cameron, Colm Gildernew and Paula Bradshaw. Colin McGrath not pictured, also attended.
A number of online engagements were held throughout the month of January. These included a meeting with Dr Ray Nethercott, Officer for Ireland at the Royal College of Paediatrics and Child Health and a meeting with community paediatricians from across Northern Ireland. Online meetings were also held with the Principal Officers and Chairs of the Domestic Violence Partnerships, and family solicitors working within the Directorate of Legal Services. Professor Jones attended a Local Government Safeguarding meeting with Council Chief Executives, met with NIPSA representatives and parents and carers through the Northern Health and Social Care Trust (NHSCT) Autism Reference Group.
Professor Jones along with Advisory Panel Members, Marie Roulston and Pat Dolan visited the VOYPIC Office in Belfast to meet with young people to hear about their experiences and to share his thoughts on the way forward. Members of the Experts by Experience Reference Group were able to engage again with Professor Jones and the Panel Members, as representatives for care experienced young people.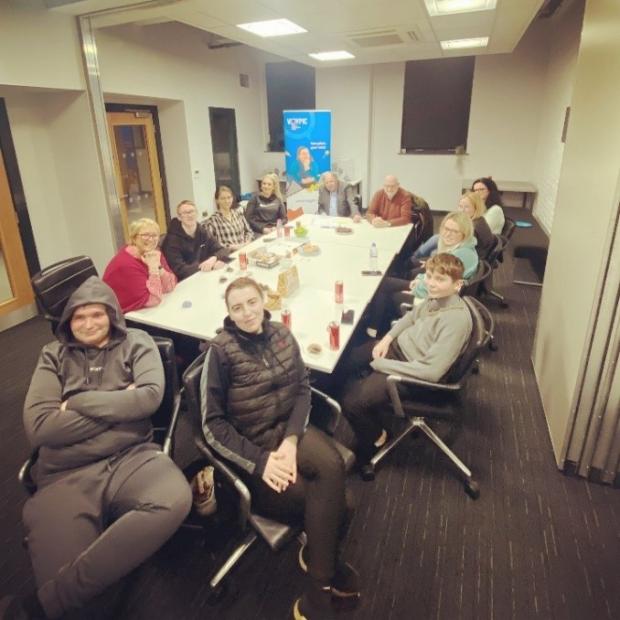 Professor Jones, along with Advisory Panel members, Marie Roulston and Professor Pat Dolan, met again with the VOYPIC Experts by Experience Reference Group.
A NOTE FROM PROFESSOR JONES ON THE NEXT STAGE OF THE REVIEW
The January Newsletter marks the 12-month anniversary of the launch and commencement of the Review at the beginning of February 2022.
During the past year I have had extensive engagement across Northern Ireland with young people, parents and family carers, the practitioners, and providers of children's social care services, and those who work alongside and in partnership with children's social care.
The Review has now reached the stage where I will be concentrating and focussed on preparing the Review report and recommendations rather than getting out and about with further meetings and engagements.
I am tremendously grateful to everyone who has shared their experiences, expertise, and wisdom with me. Now it's down to me (with the continuing contribution of the Review's Advisory Panel and Secretariat) to harness and bring together all the insights I have been given.
The Review report will be completed over the next few months and will be launched and published in June 2023.
31st January 2023.
WORKSHOP – CHILDREN'S SOCIAL CARE ORGANISATIONAL ARRANGEMENTS
Our fifth and final workshop took place on 27th January 2023 at Oxford Island Nature Reserve which focused on Children's Social Care Organisational Arrangements. 79 people participated and representatives included, parents, carers, practitioners, policymakers, service managers, union reps, the community and voluntary sector as well as representatives from statutory agencies. The workshop provided a platform for delegates to share their thoughts and views on the organisation and delivery of children's social care services in Northern Ireland. Engaging discussions took place from both an individual and group perspective through roundtable and plenary discussions.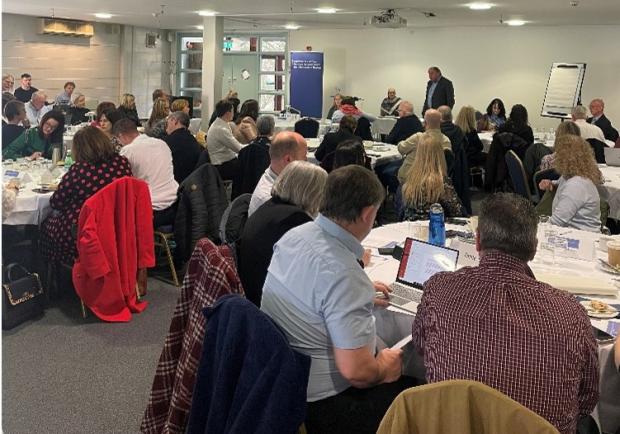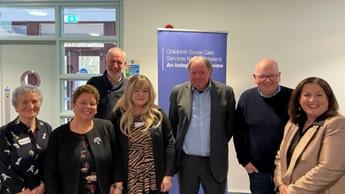 Thank you to the amazing parents and carers that contributed to the Review.
Pictured below are keynote speakers who included Carolyn Ewart, BASW National Director, Maura Dargan, Executive Director of Social Work and Divisional Director of The Children and Young People's Division, NHSCT, Avery Bowser, Director of Service Development, Action for Children NI, Gerry Largey, Branch Chair NIPSA, along with the Lead Reviewer, Professor Ray Jones.
More information on the workshop will be available on the website soon.
HAVE YOUR SAY
The Northern Ireland Social Care Council (NISCC) and the British Association of Social Workers Northern Ireland (BASW NI) launched a core social work roles survey on 30 January 2023. This is an opportunity for social workers to share their views on the skills and areas of knowledge that they consider key to the delivery of high-quality services.
To make your voice heard, please take part by clicking the below survey link surveymonkey.co.uk/r/S8JJ578
This survey will close at 09:00 am on Monday 13 February 2023.
REVIEW LAUNCH REPORT
The launch of the Review report will be held at Stormont Hotel on Wednesday 21 June 2023. Invitations will issue soon.  
CONTACTING THE REVIEW
If you wish to get in touch with the Review, you can contact the Review Secretariat team through the Review's website, accessed here. The website provides information about the Review, details on how to contact us, key documents and latest news. The Review website will serve as a platform to connect with you and to seek your views.
The Review has its own twitter account @cscsreviewni where you can follow us and view our twitter feed for more updates on the work of the Review. It can be accessed here.